Latest News
Whats On
Have Your Say
Upload Your Photos

Opening Times:
Wednesday, Saturday & Sunday, 10 a.m. to 4 p.m.
For Public Holidays and the Christmas Period please consult our Facebook page or Phone the Museum 01903 740188.
Other times by appointment.

Access to our archive collection by appointment only.

Entrance: Free

Facilities & Accessibility: Fully Accessible, Toilets, Wheelchair Accessible, Unsupervised Cloakroom
Activities and Exhibitions
Exhibitions
Exhibitions are on display in the Museum during normal opening hours.

16th July to 28th September. Special Exhibition - MILLS - GIANTS of the Countryside. The story of Sussex Mills. Explore the working life of Storrington's wind and watermills - and find out what happened to them.


On Saturday 16 July, the opening day of our new exhibition Mills "Giants of the Countryside" you will be able to join in a guided walk visiting some of the sites of Storrington's past Mills Tickets for this walk will be £5 each including a break for tea and cake at the museum. The start time is 1.30pm at the Water Lane car park. For further information call 01903 740188 or email

[email protected]

The walk is approximately 5km in length with two ascents of about 90ft

8th October to 21st December. Special Exhibition - PLAYING ABOUT. Toys and memories of childhood. Leading into our Christmas celebrations.


Special Events
Programme 2011
Please note all Monday evening talks will be held at the Old School, School Lane, Storrington. Starting promptly at 7.30 pm. Entrance £3. Non Members Welcome.

THURSDAY, 21st JULY. Know your Storrington - 2pm. Village walk with Eunice Allen followed by refreshments at the Old School. Meet at the Museum £4.50

TUESDAY, 2nd AUGUST. Visit West Blatchington Windmill, Hove. - 2pm. Tour by Peter Hill followed by refreshments. Cost including entrance fee £4.50

SATURDAY, 6th AUGUST. Mills Creativity Day - 10am - 4pm. For children - prizes!

THURSDAY, 25th AUGUST. Junior Archeology Day. - 10am - 4pm. Dig for buried treasure, make bronze pots and Saxon runes. Children 4-11 £5 per child, adults free (children must be accompanied by an adult) Refreshments available. Further details: Contact Museum 01903 740188

WEDNESDAY, 14th SEPTEMBER. Visit to Littlehampton Museum after which members may wish to visit the Look & Sea! - 2pm. Visitor and Heritage Centre nearby £3.00

SATURDAY, 17th SEPTEMBER. Flour and Food Day. - 10am - 4pm. How we use what mills produce. Bread, cakes, ... Come and see and buy.

SUNDAY, 16th OCTOBER. Family History Day. - 10am - 4pm. Reasearching your family tree. Refreshments available. Admission £2.00. Children under 11 years free

SATURDAY, 22nd OCTOBER. Quiz Evening - 7pm for 7.30pm. Storrington Village Hall

SATURDAY, 12th NOVEMBER. Toys and Trains - 10am - 4pm. A special event for children of all ages.

SATURDAY, 26th NOVEMBER. Christmas Fair. - 10am - 4pm. Father Christmas, gifts, books, games, lucky dip. Prizes!

SATURDAY, 10th DECEMBER. Father Christmas. - 10am - 4pm. Christmas fun day. Competitions, games, and lots more.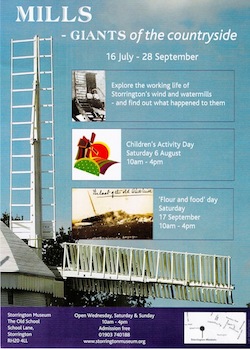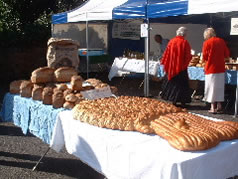 The harvest loaf and other bread including the "Storrington Kibble" loaf at the Victorian Harvest Home Festival - September 2006.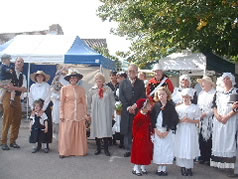 Victorian costumes at the Victorian Harvest Home Festival - September 2006.