Maps
A list of all the maps the Museum has in it's Collection will be available soon.

The Museum has copies of all the Tithe Maps, 1830s to 1850s, in its area on CDs.

The Boundary of the South Downs National Park running through the district can be seen by clicking on the sections below.
The Boundary between Pulborough and Storrington.
The Boundary between Sullington and Washington.

Old maps of Sussex can be viewed at the University of Portsmouth's Department of Geography's web site. There are maps of the whole of Sussex from Speed, 1610, to Dugdale, 1840. The Bowen map of 1756 only marks Bury. The Yeakell and Gardner, 2 inches to 1 mile map of 1778-1783, shows good details of the area, (4th & 5th maps in top row)

1879 maps of Sussex at 6 inches to the mile, first edition, can be seen on Landmark's web site.

The area covered by the Museum.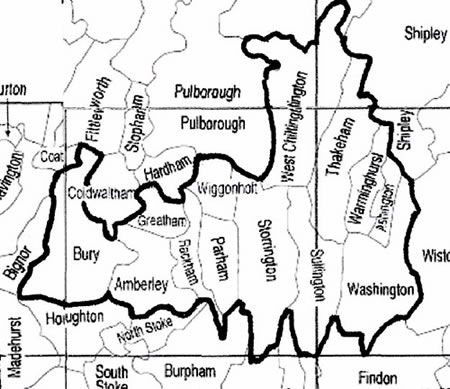 Part of Yeakell and Gardner map of Sussex, 1778-1783 showing Storrington.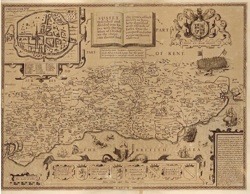 Speed's map of Sussex, 1610.