Follow us on Facebook Latest News
Whats On
Have Your Say
Upload Your Photos

Pro am Art Sale

Family History Day last October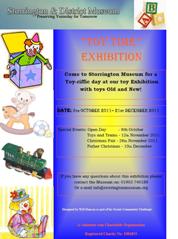 Post Exhibitions and Activities for 2011
We started the year with our first exhibition With Paintbrush in Hand local artists views of Storrington.
In February we had a talk by Helen Poole, "Charles II and His Escape through Sussex - 1651" followed in March by a successful Quiz night with our resident quizmaster Rev. Stephen Turrell.
The Crafts Exhibition, ran between April and June and incorporated local artists, craft demonstrations with articles for sale. Here is a selection of paintings by the artists

Art Exhibition




A visit to Buncton and Coombes Churches in June and Know your Storrington, an organised walk around the village with Eunice Allen provided activities running up to our next and biggest exhibition.
Mills, Giants of the Countryside.
During this exhibition an organised visit to West Blatchington Windmill, Hove and a Mills Creativity Day made it a busy summer. The annual dig for buried treasure for the Junior Archaeology Day and the Flower Fairies day were equally successful.
In early October Meg Everitt organised guided walks around old mill sites and a few days later at an evening talk we were very fortunate to have Mr Peter Hill, Chairman of the Sussex Mills Group give a talk on Mills.
Family History Day returned on 16th October with experts providing advice on how to research family histories. Thank you to Michael Leeming for organising in what has become a regular event. If you have an enquiry or need advice on how to start research on your family tree please get in touch.
A busy October finished with another one of our very popular Quiz nights with the one and only Stephen Turrell as our quiz master.
Toy Time was our last exhibition of 2011 and its open day was full of sights and activities including collections being shown by expert collectors, train layouts, the childrens entertainer Marky, two puppet shows and a Teddy bears picnic plus other magical happenings.
Childrens Entertainer1 Childrens Entertainer2

Post Exhibitions and Activities for 2012
The year started as it had finished, "busy" with the launch of our first exhibition "We will remember them". This exhibition covered both the world wars and formally launched the museum's new research project, "Storrington Recollects". We were pleased with the number of artifacts and feedback for the first exhibition of the year and if you would like to have your memories recorded of the war years, wherever you were living please get in touch.
In early January we were treated by a talk by Mark Perry-Nash, "Richard III: Murderer - or Martyr. The hall was full but the verdict of the jury is still out!
At the beginning of February we were entertained by a talk by Tony and Lizzie Gilks of Timespan, "Below Stairs", domestic skills, 1880 to the Great War. A "Beetle Drive" and tea pary followed later that month. March began with the museum's AGM followed by an interesting talk by Eunice Allen, Education Secretary who provided an number of artifacts which raised much discussion. The ever popular Quiz Evening hosted by the Rev. Stephen Turrell was again a hugh success with tickets being sold out weeks before.
April saw the launch of our latest exhibition, "Queen's Jubilee" which runs until the 12th August. Please come and see us and join in the jubilations.
Continuing the theme of "Jubilee", in May we enjoyed a talk at the Old School by Mark Perry-Nash on "Pageant of Monarchy". While in June, an organised trip to West Chiltington Church blessed by the late sunshine, illuminated the wall paintings of the church.
Please see our Activities page for full details of our 2012 programme.
If you would like to be involved with the museum through our activities, stewarding or joining our membership list please call us on 01903 740188.