Latest News
Whats On
Have Your Say
Upload Your Photos

Opening Times:
Wednesday, Saturday & Sunday, 10 a.m. to 4 p.m.
For Public Holidays and the Christmas Period please consult our Facebook page or Phone the Museum 01903 740188.
Other times by appointment.

Access to our archive collection by appointment only.

Entrance: Free

Facilities & Accessibility: Fully Accessible, Toilets, Wheelchair Accessible, Unsupervised Cloakroom
Education Outreach - WHAT THE MUSEUM CAN DO FOR SCHOOLS
Storrington and District Museum has many fascinating artefacts and photographs that relate to the past in Storrington and the surrounding area. These can give an insight into how people lived in this part of the world and the Museum can bring this insight into the past alive for the children in your school.

This insight can be offered in several ways:

Groups of children visiting the museum.
There is a lot to see in the Museum. To help and encourage children to search, find and observe, there is a quiz sheet available, which asks questions about some of the artefacts on display. There are also some simple suggestions for follow-up activities.
As space is limited, we are restricted to ten in the Museum at once, with an adult. If you would like the whole class to come to the Museum, the class could be divided in three: one group into the Museum; one group in St Mary's Church; one group looking at the architecture of the old buildings in Church Street, including the former St Joseph's Convent and the old carved door at the bottom of Browns Lane. The groups would rotate.

The Loan of Artefacts.
There are several artefacts that can be loaned to schools:
A Second World War evacuee's suitcase with ration book etc.,
Victorian washday items,
Farming tools.
These items can be borrowed for an agreed length of time and there are certain guidelines concerning the handling and care of these artefacts. These guidlines would be discussed and agreed before the loan.

A Visit to your School.
It can be arranged for the Education Officer, a former teacher, to visit the school to talk about the Museum, how it collects and conserves its artefacts and to bring in some examples of its collection.

A Visitation of Queen Elizabeth I on her progress to open a new dock at Portsmouth.
Meg Everitt, a retired teacher, takes on the role of her Majesty, Queen Elizabeth I. She has a wide knowledge of the life of Queen Elizabeth and of Tudor Times; local connections are brought into the session. Learning historical facts about the TUDOR PERIOD in this way brings the subject to life.
Meg would visit the school, dressed as Queen Elizabeth with her ladies-in-waiting, to give an audience at which children ask adhoc questions for up to one hour, age range 5 to 14 years. The ideal number of children is about 25 to 30, although a less intimate session with more of a performance and fewer questions is possible with up to 60.
Meg can also visit other museums and re-enactment events in her role such as the Visit to Rye Museum and to the opening of Cowdray Ruins

Click here to play see Queen Elizabeth in action in a local primary school.

Contact the Education Secretary [email protected]
The Museum does not have a scale of fees for these services, but would expect a donation to Museum funds so that we can continue to conserve our local heritage.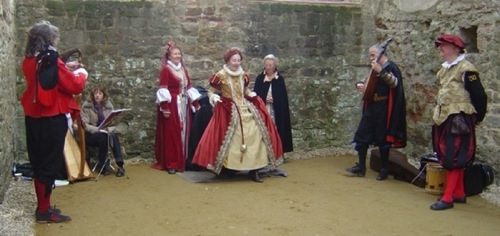 Queen Elizabeth I at the opening of Cowdray Ruins.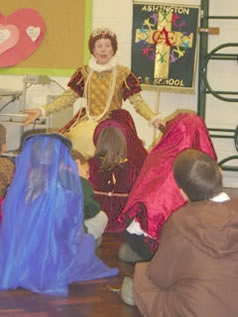 Queen Elizabeth I visits Ashington School on her progress to open a new Dock at Portsmouth.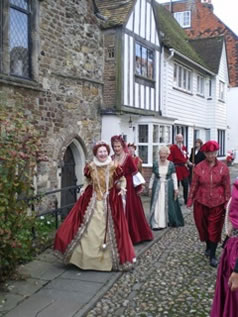 Good Queen Bess in Rye.