Latest News
Whats On
Have Your Say
Upload Your Photos

Opening Times:
Wednesday, Saturday & Sunday, 10 a.m. to 4 p.m.
For Public Holidays and the Christmas Period please consult our Facebook page or Phone the Museum 01903 740188.
Other times by appointment.

Access to our archive collection by appointment only.

Entrance: Free

Facilities & Accessibility: Fully Accessible, Toilets, Wheelchair Accessible, Unsupervised Cloakroom
Famous Residents
Penn, William. English Member of Society Friends (Quakers). Born in London in 1644, died in 1718. Had a house in Warminghurst since demolished. See Times Past Issues 13 and 19.

Frankland, William. Explorer and Inventor. 1720-1805. Lived in Munthan Court, Findon (since demolished). Buried in Findon churchyard. See Times Past Issue No 18.

Thompson, Francis. Poet. 1859-1907. Stayed in the Monastery, Storrington (1889). 'The Hound of Heaven' was written in Storrington. See Times Past Issue No. 8, 'Daisy and the Sad Poet'.

Bennett, Arnold. Novelist. 1867-1931. In 1926 stayed for 8 weeks in Amberley in a house now known as Boxwood in Church Street. See.

Galsworthy, John. Novelist and Dramatist. 1867-1933. Nobel Prize in Literature, 1932. Final seven years of his life spent in Bury House, Bury. Museum has his inkwell. See.

Ireland, John. Composer. Born in Bowden, nr Manchester in 1879 and died in Sussex in 1962. Retired to Sussex in 1953 when he bought a converted windmill on Rock Common, Washington. See the John Ireland Trust Web Site.

Bax, Sir Arnold Edward Trevor. Composer. Born in London in 1883 and died in Cork in 1953. Knighted in 1937, became Master of the King's Musick in 1942. Brief autobiography - 'Farewell, my youth' (1943). Lived out his last years at the White Horse pub in Storrington. See the Sir Arnold Bax Web Site.

Kenyatta, Jomo. First President of Kenya. 1894-1978. Stayed during the war years with Roy Armstrong in Sullington. See Times Past Issue No. 4, 'Jomo Kenyatta, Famous war time resident'.

Barker, Cicely Mary. Illustrator and Poet. 1895-1973. Author of the Flower Fairies children's books. Lived, in her later life, in Manor Close off Church Street, Storrington. See.

Cronin, Archibald Joseph. Doctor (Dr Finlay) and Writer. 1897-1981. Lived in Sullington for some years before the Second World War. See Times Past Issue No. 16, 'Dr Finlay and the Crusader's Tomb'.

Bramham, John William. Artist. 1905-1990. Moved to Storrington in 1960 and lived for 30 years in The Studio, Manley's Hill at the junction with Meadowside. See Times Past Issue No. 5, 'J.W.Bramham - Local Artist'.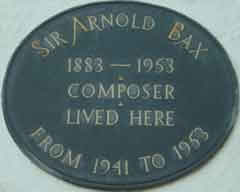 Plaque on the wall of the White Horse Inn in the centre of Storrington.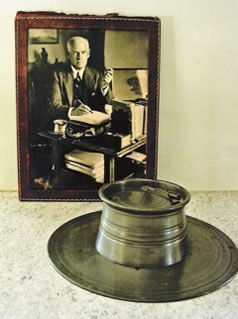 Galsworthy's ink well which is in the museum.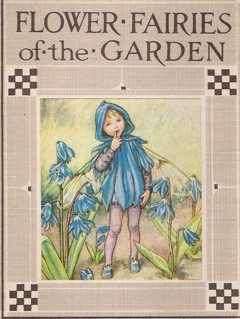 The front cover to one of Cicely Mary Barker's books